Personalised Samsung Galaxy S2 Case
Artcover Samsung Galaxy S2 Cases are hard shields made from high-quality material, which effectively protects your mobile phone from scratches or other damage. Our Samsung Galaxy Cases perfectly fit the design of your mobile phone, and can easily be snapped on and off again. Our modern printing processes let the colour penetrate into the surface of the Samsung Galaxy Case so that – in contrast to many stickers or skins - superficial scratches will not mar the perfect appearance of your individually designed Samsung Galaxy Case.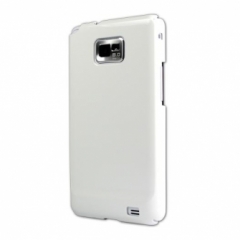 Customised Samsung Galaxy S2 Cases
Individually designed Samsung Galaxy S2 Cases are a perfect present idea ... (more)
24.90 £
Choose case →
Product details
protective hardcover
high-class quality product
scratch resistant 4C-print around the corner
free access to all Ports and Sensors
light, durable, catchy, thin
glossy
more informations →
Your individual Samsung Galaxy S2 Case – Style up your Samsung Galaxy S2
Design your personal Samsung Galaxy S2 Case with a picture chosen by yourself and purchase your unique Samsung Galaxy S2 Case. Your imagination knows no bounds; you decide whether a holiday picture or a picture showing your Ferrari will be printed on your Samsung Galaxy Case – the only thing that matters is that your Samsung Galaxy Case is not as boring as your neighbour's. Who has not been in the following situation: in a restaurant, a telephone rings, and ten people get out their ten identical mobile phones. From now on you have the option to make a statement with your individually designed Samsung Galaxy Case and show that it is possible to extend your own style to mobile phones. Artcover Samsung Galaxy Cases are so-called Samsung Galaxy Sleeves, which can easily be placed on and removed off your mobile phone. So why not go to work in the morning having snapped on a Samsung Galaxy Case underlining your professionality and in the evening, for your golf club, swap it for the case showing you teeing off. Make a statement with your unique, customised artcover Samsung Galaxy Case.
Samsung Galaxy S2 Sleeve to every taste
There is an almost incomprehensible number of Samsung Galaxy S2 Sleeves, in every design and quality. But there is always only one artcover Samsung Galaxy Sleeve which perfectly reflects its owner's taste, as the customised Samsung Galaxy Sleeve is produced according to your orders and will definitely meet your expectations. Most of the other Samsung Galaxy Cases are mass products probably imported from China. Your personalised Samsung Galaxy Sleeve is printed in Germany – and in case you are not satisfied with it we will be at your service any time. Our principle: we are the good guys. Our aim: we want you to be happy with your Samsung Galaxy Sleeve.
Design your own Samsung Galaxy Cover
Design your own, individual high-quality Samsung Galaxy S2 Cover. The Samsung Galaxy S2 is one of the most popular mobile phones on the market – for a good reason. It is virtually unbeatable when it comes to price/performance and it is definitely a very elegant gadget. On the downside, with so many people having a Samsung Galaxy S2, where is room for individuality? If you want to be different, then the artcover Samsung Galaxy Cover is just the right thing for you. It is really easy to design your own Samsung Galaxy Cover: just upload a picture, add up to three text messages on your Samsung Galaxy Cover, fill in your personal details in the check-out, select a method of payment, and after only a couple of days, you will find your unique Samsung Galaxy Cover in your letterbox. Please note that our print covers the whole surface, i.e. includes the sides of your Samsung Galaxy Cover. In order to achieve the perfect result, your chosen picture has to be large enough to cover not only the front, but also the sides of your Samsung Galaxy Cover. So please make sure that your picture fills the whole frame for your Samsung Galaxy Cover shown in the configurator.