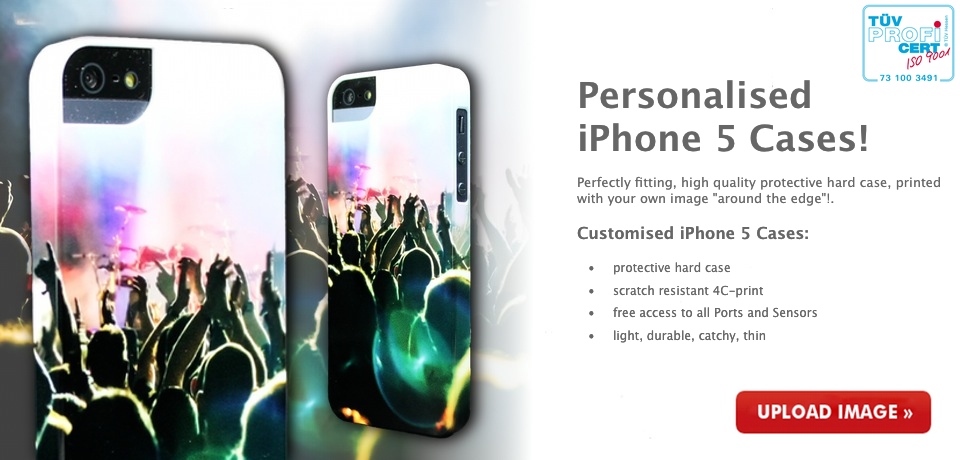 Personali

sed

iPhone 5 Cases
You have a new iPhone 5, we have the matching shell. Apple changed its external design in the generational change from iPhone 4(s) to iPhone 5. Which means it's time for a new iPhone Protective Case from artcover. iPhone 5 Protective Cases have different dimensions to, and don't fit older Apple products. Still we've put a lot of effort into ensuring it retains a particularly slim line design. The new individually designed iPhone 5 Case distinguishes itself in its optimal fit, which allows it to click perfectly onto the iPhone 5, in its optimal protection, and, owing to its slim design, its minimal additional thickness. The new iPhone 5 Case from artcover is a special combination of safety and style.
Create your own - perfectly fitting high quality customised iPhone 5 Cases

With individually designed iPhone 5 Cases, not only is your phone protected from damage, but it's also individual and attractive. Customised products, like our iPhone 5 Cases are trendy because they offer everyone the opportunity to show their personal style, and make a personal statement with the product. With an individually designed iPhone 5 Case from artcover, this is the easiest thing to achieve, and fun too! Choose the appropriate iPhone Case for your Apple mobile phone, and design the case to suit your personal wishes – everyone gets a personal iPhone 5 Case, uniquely designed to suit his or her taste, whether that's a leather design, or the pattern of a tie, or a photo of the best beloved to carry with you everywhere, you decide on the style of your iPhone 5 Protective Case.

protective hardcover
high-class quality product
scratch resistant 4C-print around the corner
free access to all Ports and Sensors
light, durable, catchy, thin
glossy

 
Customised iPhone 5 Case - the perfect present for every occasion
An artcover iPhone 5 Case is the perfect present idea for every occasion. Without spending your nights handcrafting away, you'll be able to give an individual present that will remind the lucky person of you every day! We are always working at expanding our range of products and offer you the most established mobile phone covers. Individually designed iPhone 5 Cases are the perfect present for individualists. Christmas already? BFF's a year older? Yet another relative's birthday, and no time to do crafts? Want to give a present that underlines your personal relationship to the recipient, place something special, something individual, under the Christmas tree, something unique that exists nowhere else on the planet? No problem with an individually designed iPhone Protective Case as present idea. Print your personal artcover iPhone Shield with your funny and romantic ideas and photos. You and your best beloved's matching iPhone Protective Cases, or the best picture from your last holiday together, your dog and family, Grandma, or sunset in Shanghai – give your fantasy free reign – surprise the others with your individually created iPhone Covers as present idea.