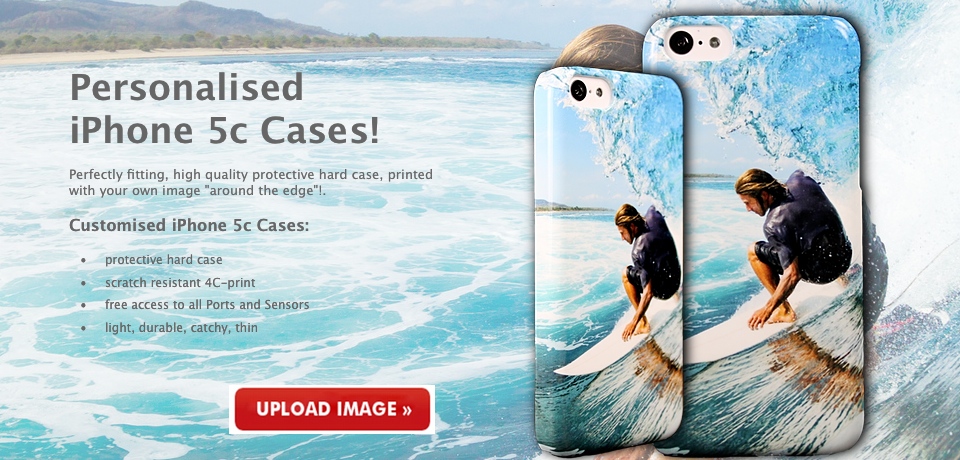 Personalised iPhone 5c Cases
Your individually designed artcover iPhone 5c Case will transform your mobile phone into a unique design statement. Let your mobile phone case differ from the dull uniformity of the other iPhone 5c Cases on the market and upload your picture into our configurator now. Your iPhone 5c Case will even outshine the – undoubtedly very elegant – design of your mobile phone, because you have created it yourself to your taste. With your personal design on our streamlined mobile phone shell, you and your mobile phone will make a cool entrance expressing your personality. Design your mobile phone protective case now at your customising expert!

protective hardcover
high-class quality product
scratch resistant 4C-print around the corner
free access to all Ports and Sensors
light, durable, catchy, thin

Design your own iPhone 5c Case - easy as breeze!

At artcover you can design your own iPhone 5c Protective Case. Just choose an picture of your own, click on the "Individually Design" button and upload your favourite picture into our configurator. Now you can design your own iPhone 5c Cover. You can move the picture from our configurator around on your iPhone 5c Case, scale it, add (up to three) text fields, change, move, rotate and scale the text, and use other design options, e.g., changing your own picture with different effects or placing several pictures on the shell…Go on, design your own iPhone 5c Case!