Personalised iPhone 3 Cases
iPhone 3 cases from artcover are made of resistant and high quality material that protects your iPhone 3 from scratches and damage. The individually designed iPhone 3 Case fits the back of your iPhone 3 like a glove, so well that your phone feels better with than without the case, and that takes some doing, given that the design of the iPhone 3 was a standard setter in its time! In addition to your gaining protection from the iPhone 3 Case, you can transform your phone into a personal design statement with the individually designed iPhone 3 Case. Customise your iPhone 3 Case yourself and set yourself apart from the crowd – whether you do it with an picture of your Grandma or one of your Persian rug…what's important is that your iPhone Case matches your personality!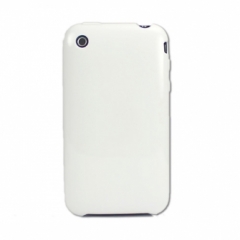 iPhone 3 Case "Slim Glossy"
The iPhone 3 Cases from artcover fit your phone like a glove, without being too bulky. Lots of iPhone 3 Cases destroy the beautiful ... (more)
24.90 £
Choose case →
Product details
protective hardcover
high-class quality product
scratch resistant 4C-print around the corner
free access to all Ports and Sensors
light, durable, catchy, thin
glossy
more informations →
Individual iPhone 3 Cases – Style up your iPhone 3
Individually designed iPhone 3 Cases are now offered by a range of providers. Many of these providers don't sell iPhone Cases, though, they sell skins – stickers that you glue onto the mobile phone. The difference between these and the iPhone Cases from artcover is that your personal motif is, using artcover's modern printing processes, printed onto a protective case made of plastic in such a way that the colour penetrates a short distance into the surface of the case, and even after it has been lightly scratched, your case still looks elegant and stylish. You can click your artcover iPhone Case onto your mobile phone, any time, with ease, and without causing damage to your phone, and just as easily take it off again – so you can have a case at work with the pattern of your tie, and a case in the evening with a cool party design.